Update: Here's the newest Spider II presentation. Delivered by Sarp Oral and others at the 2013 Lustre User Group.  It's a good read!
The Big Data era has brought the topics of scalability and performance to the forefront of the infrastructure discussion. As data volumes continue to grow, the organizational requirement to ingest, process and distribute large volumes of data are challenged by IT infrastructures that cannot scale.
Today, DDN has the unique pleasure of announcing that it has been selected to build the world's fastest parallel storage system. In partnership with our customer Oak Ridge National Laboratory [ORNL], DDN will be spending the next few weeks building a system that supports the world's fastest supercomputer, Titan.  My avid readers may remember that I alluded to this in a previous post.
Titan stands tall in the high performance computing community. Capable of delivering over 27 petaflops of peak performance, it's the reigning champion of the top500 listing of the world's fastest computers.
'How fast is 27 petaflops' you say?  I'm glad you asked. 27 petaflops is measured as 27 quadrillion calculations per second… in other terms, Titan is as fast as about 500,000 laptops.  Check out the infographic to the left to get additional perspective.
As storage companies go, it's not very often that anyone gets the chance to say they've built the fastest of anything.  In this case, this is one of many times that DDN has been able to claim the distinction of having built the world's fastest storage system.  Why do we do this? DDN has successfully commercialized its experience and technology in HPC to address a broad set of applications across IT.
While this may sound like a supercomputing fish story, the reality is that the level of scale we've achieved with this announcement has become much more relevant to a broader collection of customers worldwide. A prominent IT journalist recently asked where else one can find infrastructure of this size… while this may be the biggest system, it's not the only one of this relative scale.  Today, you can find massive infrastructure built for web content & social networking companies and intelligence organizations. 100GB/s+ procurements are no longer few and far between at DDN, and as Big Data analytics becomes democratized, we see more and more analytic environments that demand hyperscale performance.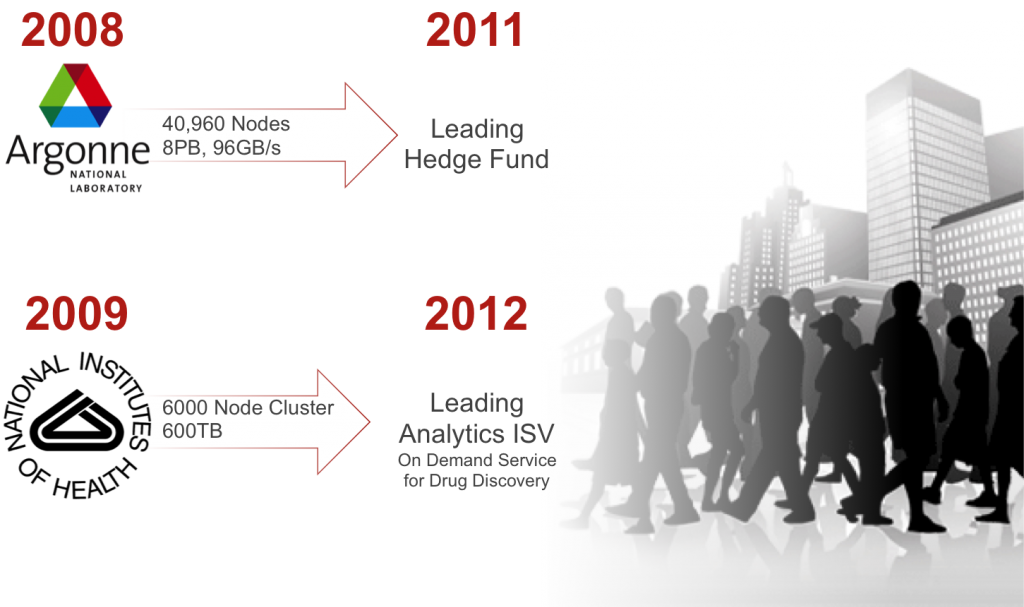 OK, here's my first play for technology infamy:
'In a scale-out world, you can throw enough hardware at any problem.'
– Jeff Denworth (circa 2013)
The amazing thing about Spider II, our new system at ORNL, is its efficiency.  [See quote above]  Spider II is built with only 36 of DDN's SFA12K-40 storage arrays.  These systems are aggregated by the Lustre® file system into one powerful system that is capable of delivering up to 10x that which can be achieved by even today's most powerful scale-out IT NAS systems.  While we are delivering a fast system, recognize that it's also very lean – the simplicity of the design and the compact form factor (only 36 racks) are among the chief reasons we were selected by ORNL after a very competitive procurement.
At DDN, we're razor-focused on minimizing the cost of computing through delivering I/O systems that compliment both the compute architecture (our performance and latency makes computers faster) but also your budget by doing less with more.
So, yes… it's a big fish. But the real story is that there's very little blubber.